We have never raised the price of the seat since it's inception almost ten years ago.
Due to ongoing increases in raw materials and shipping costs however, at this time we must.
We continue to guarantee that we will still be the very best value in bleacher seating. We create "Happy Cheeks" and we mean it.
Single Bleacher Seats - Plain Covers
VALUE: Price Paid + Satisfaction Received
With Happy Cheeks® you'll receive the greatest value. The quality of our seats ensure no more aching back, numb legs, or unhappy cheeks from sitting on uncomfortable hard surfaces.
Buy a Happy Cheeks Seat Cushion once and use it for a lifetime!
Superior Foam
Superior Ergonomic Shape
Superior Science / Chemistry
Superior Customer Service
If you are looking for a customized product, color, pattern, print, logo, or want to buy in bulk, fill out our simple quote request form here.
** Order 2 or More and receive 6MM Biner Carrying Clips Free!
To View An Expanded Photo of Any Bleacher Seat, Please Click A Photo Below.
Bulk Bleacher Seats - Plain Covers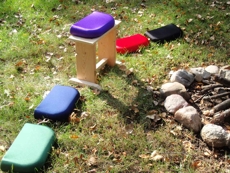 6 Pack
Choose Your Colors - Mix and Match Colors
Total Cost: $179.99
Free Ground Shipping!
After Ordering Call 616-293-4437 to Specify Colors
For more information regarding an order and the Happy Cheeks® bleacher seats:
Request a Quote